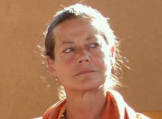 6-9 juni 2019
IST: Teaching and Planning with Creativity & Practical Swadhyaya

Vidareutbildning för Satyananda Yogalärare.
Progressive training for Satyananda Yoga Teachers.

Ur kursens innehåll:
Undervisningsmetodik
Teaching methods
Kreativ planering av klasser och kurser över terminerna, helgkurser, seminarier, etc.
Creative planning of classes and courses over terms and the year
De olika stegen i Yoga Nidra -
The different stages in Yoga Nidra
Praktisk Swadhyaya
Practical Swadhyaya
Praktiska klasser, grupparbete och diskussioner varje dag.
Practical classes, group work and discussions every day.
Kursen hålls på engelska
The course will be held in English

This In Service Training is given under the auspices of Satyananda Yoga Europe Academy

Tider: Torsdag 6 juni kl 15 – söndag 9 juni kl 14
Plats: Satyananda Yoga kursgård, Bollnäs
Pris: 3600 kr inkl. kost & logi (500 kr rabatt för SYS medlemmar)

Swami Vedantananda Saraswati began practising yoga at the age of sixteen. She studied with several teachers before meeting her Guru, Swami Satyananda Saraswati, in 1983 and was initiated into poorna sannyasa in 1985.
Since that turning point in her life she has taught yoga in many areas of society, specialising in teaching yoga to children, In-Service Training and Teacher Training. She is a respected and much loved yoga teacher whose humour shines through her love of living yoga. Her teaching is recognised by its practical and down to earth approach. Swami Vedantananda is currently living in Portugal where she offers a variety of yoga and meditation retreats.