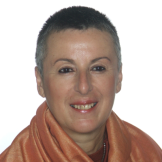 19 september and 24 oktober & 7 november 2021
Karma-, Bhakti- & Jnana Yoga from the Bhagavad Gita

The course will be live online via zoom. A recording will be made so if you can't participate live you can use the recording afterwards.


Swami Omgyanam was born in Serbia where she completed her formal education. Since initiation in the Satyananda yoga tradition in 1988, she dedicated her life to both experiencing and teaching yoga. In 1995 she left for India, to live in the Ganga Darshan ashram in Mungir until 2009. After taking sannyasa from her Guru Swami Niranjanananda Saraswati in 1999, she undergoes training in various disciplines. For several years she was teaching meditation and Satyananda Yoga Nidra in various courses held at the Bihar School of Yoga. Swami Omgyanam tours overseas to spread classical yoga of Bihar Yoga tradition, and teaches relaxation and meditation in Serbia. Her special interest is in yoga philosophy and raja yoga.

Yoga of the Bhagavad Gita
The Bhagavad Gita is a unique philosophical and spiritual treatise which provides a complete guidance to a sincere seeker. It is deeply spiritual, mystical, and practical at the same time. It is one of the most profound books of the entire world's cultural heritage, book that is forever alive. Through its shakti one can draw inspiration and guidance for the whole life.

The Bhagavad Gita speaks to an ordinary man and addresses problems everyone has in life, and therefore, it is considered the most valuable manual for righteous living. It is an excellent guide for the major branches of yoga: karma, raja, bhakti and jnana yoga, and it reveals the true purpose of their practice.

Practicing asanas, pranayamas, meditation is a good starting point in yoga. However, to deepen understanding of yoga one should practice swadhyaya, the depth-in study of a scripture and apply its knowledge in life.

The Bhagavad Gita seminar will focus on deepening understanding and practical implementation of the major branches of yoga and their place in our daily life, and the importance of watering one's roots.
Kursen hålls på engelska
The course will be held in English

Bhagavad Gita 1: Recording (it was sent on 19 September), price: 200 SEK - If you missed this seminar you can watch the recording and you can then participate also in the next two seminars.
Bhagavad Gita 2: 24 oktober & 7 november kl. 9-12, price: 900 SEK
Plats: Live online via zoom. The seminars will be recorded, so if you cannot participate live you can watch the recording afterwards.

Any further questions can be sent to JayAtma on e-mail lena@yogakatrineholm.se


"Jag kan varmt rekommendera den här kursen då jag har gått Sw Omgyanams kurs och föreläsningar om Bhagavad Gita. Hon är otroligt inspirerande och kunnig i ämnet. Alla på min kurs var helt tagna. Ämnet täcker också flera ekrar inom Yoga Chakra – bhakti, karma och jnanayoga."
"I can highly recommend this course. Swami Omgyanam is very inspiring and knowledgable in the subject. Everyone on the course I attened were completely taken. The subject also covers several spokes on the Chakra Wheel - bhakti, karma and jnanayoga."
- Sn Tanmaya